Start the New Year off on the right foot with these 25+ healthier recipes from your favorite bloggers!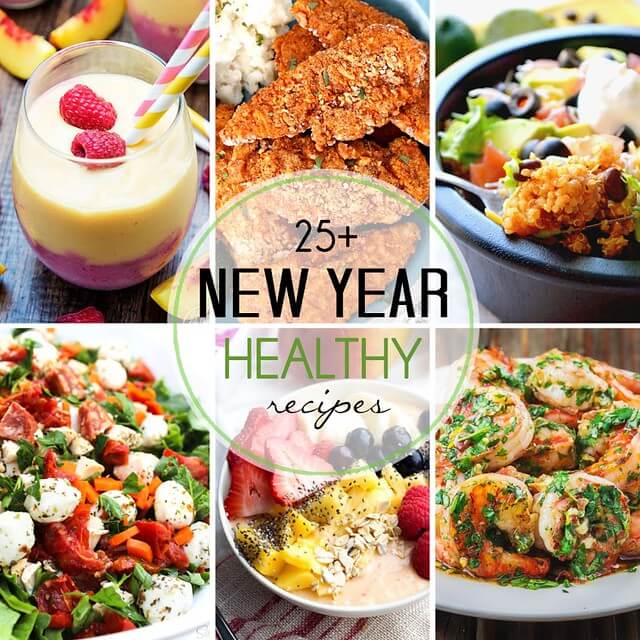 25+ New Year Healthy Recipes
With the new year just a few short days away, it's time to start thinking about changes we want to make! For myself and my family, I am looking to try to incorporate more healthier choices into our meals. It's not that we necessarily eat "bad" food, but there are some things I think I could be doing to make our meals a bit healthier – like subbing quinoa for rice occasionally or having more fruits and whole grains for breakfast rather than pre-sweetened cereal.
With the help of some of my bloggy friends, I have gathered 25 New Year Healthy Recipes – I know I will be referencing this list throughout the year! If you need a few new ideas, I hope you will give these recipes a try!
Jacked Up Monterey Chicken Salad 
3-Ingredient No-Bake Energy Bars 
Mini Salmon Asparagus Frittatas 
Hearts of Palm Artichoke Avocado Butter Lettuce Salad
Red Potato, Kale, Mushroom and Feta Frittata
Charred Kale Caesar Salad with Honey Chipotle Chicken 
Butternut Spinach Multi-Grain Medley
Cauliflower and Quinoa White Chili 
Cleansing Tri-Color Quinoa Salad 
Lightened Up Chicken Fingers and Dipping Sauce 
Shrimp & Garlic Rice Stuffed Peppers 
Grilled Shrimp Recipe with Roasted Garlic Cilantro Sauce 
Don't forget to pin it!
Other Posts You May Enjoy: