Check out these 100+ 30 Minute (or less) Meal Ideas for the Busy Cook. Find inspiration and delicious meal ideas in 30 minutes or less!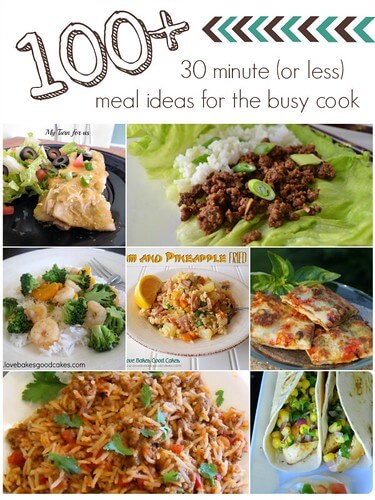 This post may contain affiliate links. As an amazon associate, I earn from qualifying purchases. See my full Disclosure Policy for details.
100+ 30 Minute (or less) Meal Ideas for the Busy Cook
As a homeschool mom with 5 kiddos, I totally get that life is hectic sometimes! Actually, it is crazy more often than it's not! I know many other families are in the same boat – maybe your family feels like time is a big factor when dinner rolls around. With these meals, dinner can be done in 30 minutes or less!
I recently had two readers specifically ask me for quick recipes – so I rounded up more than 100 of them for you! While I do have several on my blog, I appreciate that some of my bloggy friends were able to help me out by sending me some of theirs as well!
I also asked my Facebook friends and fellow bloggers to hook us up with some awesome 30 minute meal ideas, because who doesn't need more quick meals in their recipe box? You can find the thread HERE.
Other recipes you may enjoy
Originally published on September 20, 2013. Updated on April 24, 2021.