Sometimes you're left with a few egg yolks and have no idea what to do with them! Here are 10 Egg Yolk Recipes that will help you use them up!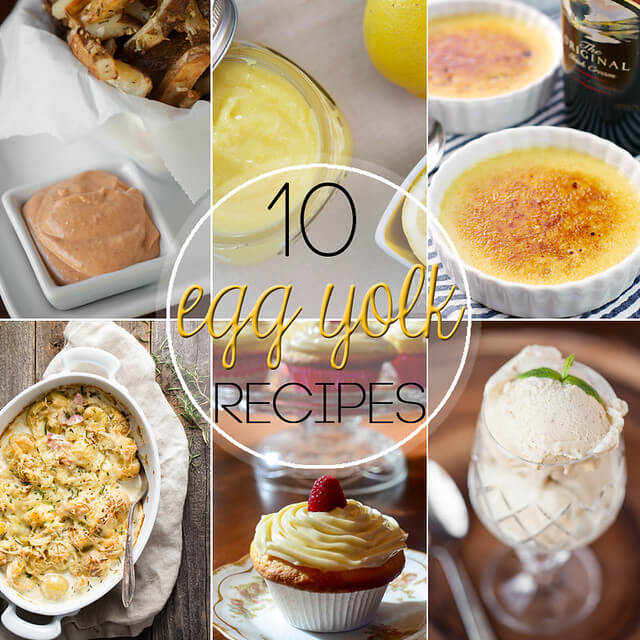 10 Egg Yolk Recipes
Earlier this week, I made some Lemon Meringues. If you are familiar with meringue-type cookies, then you know they only use the egg whites leaving you to figure out something else to do with the egg yolks. Of course, you could discard them, but that seemed like such a waste to me!
One of the first things I think about making when I have egg yolks is Crème Brûlée – and although I love Crème Brûlée, I really just didn't' feel like that was what I wanted. I went on a hunt to see what other kinds of recipes I could make using egg yolks and I discovered there are quite a few ideas! Thanks to the help of some of my blogger friends, I have a list of ten great ideas!
Stay tuned for the Lemon Meringues recipe – today, I am sharing ways to use up those extra yolks! Here are 10 Egg Yolk Recipes. Enjoy!!
Extreme Vanilla Bean Ice Cream
Smashed Parmesan Potato Gratin<
Lemon Curd and Strawberry Tart with a Sugar Cookie Cup
Food Network Lemon Curd Recipe
Lemon Raspberry Cupcakes with Lemon Curd Frosting
Don't forget to pin it!
Bacon and Egg Breakfast Fried Rice