Take your PB&J to the next level with this Uncrustables® Overnight French Toast! Breakfast never tasted so good.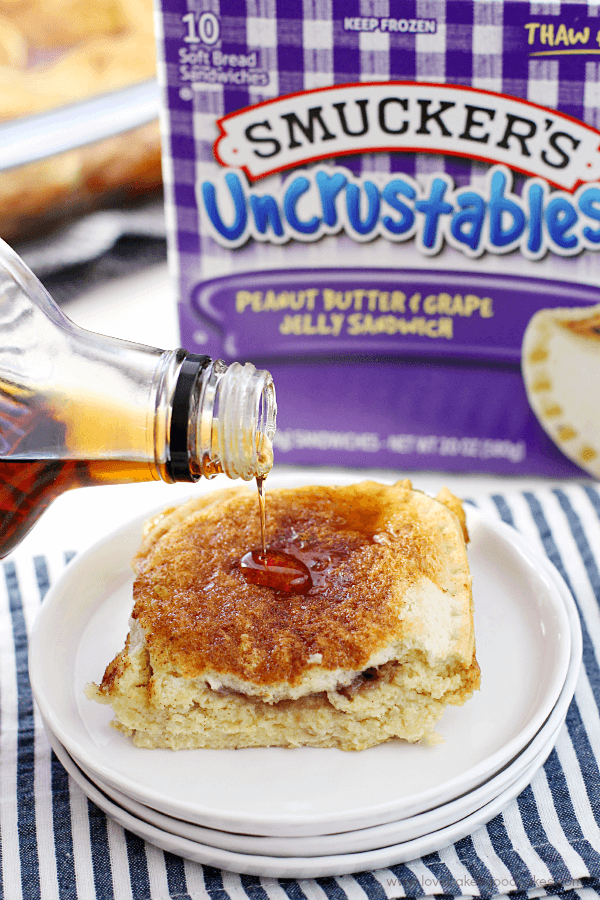 This is a sponsored conversation written by me on behalf of JM Smuckers®. The opinions and text are all mine.
Uncrustables® Overnight French Toast
Is it just me or is time flying by?! I can't believe that we're already into the holiday season – I'm usually a little more prepared than I am this year! I feel like I had a few weeks that threw me out of my normal groove, so I have been playing catch-up ever since!
Even when things seem like they're going crazy, there are some things I can absolutely count on. Like, my 4-year-old daughter being able to live on PB&J sandwiches …. morning, noon and night. Seriously. It must be a kid thing because I know a few other moms who say their kiddos are the same way! Occasionally she'll want something else, but usually, it's PB&J – no crusts! To make my life easier, I started buying her Smucker's® Uncrustables® – peanut butter and grape jelly is her favorite! Not only are they great for her, but they're super convenient when my older kids want to go to the sports park and they want to grab a snack to take with them!
A great breakfast idea
With the holidays, I had this crazy idea that I could use the Smucker's® Uncrustables® in a tasty, overnight French Toast casserole. Knowing we will be having family over to our house this year, I really wanted to make something that could be very fuss-free! The great thing about this casserole is the pre-made Smucker's® Uncrustables® make it super quick to put together and since it's made the night before, your morning is virtually stress-free!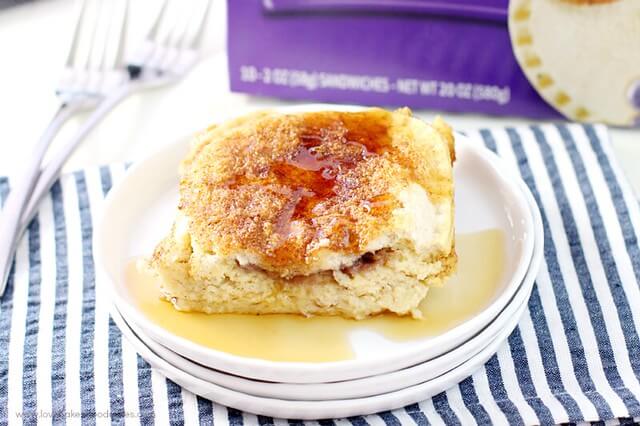 You can find Smucker's® Uncrustables® in your grocer's freezer section. Not only do they taste great as a meal or snack, but they make a pretty awesome Overnight French Toast! Although I used Peanut Butter & Grape Jelly Sandwiches, you could use any flavor of Uncrustables® your family enjoys. I think the Chocolate-Flavored Hazelnut Spread would be great topped with fresh berries! I'm definitely trying that next time!
Other Posts You May Enjoy:
Blueberry Lemon Crumb Coffee Cake