This Six Cheese Chicken Pasta Bake is easy and cheesy! #ChoppedAtHome #contest #RealCheesePeople #ad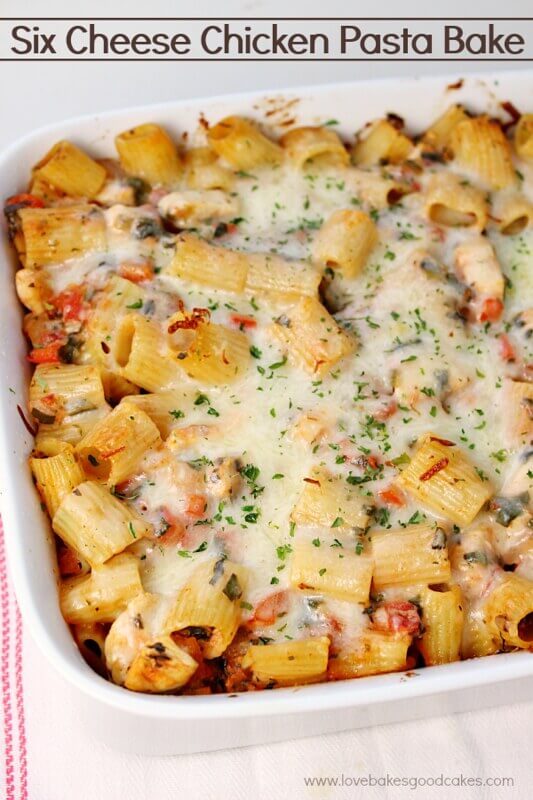 Six Cheese Chicken Pasta Bake
This is a sponsored conversation written by me on behalf of Sargento®. The opinions and text are all mine.
I don't watch a lot of TV, but one show I love is Chopped! Have you seen it? I love watching the cooks get identical baskets and turn them into completely different recipes! When I heard about this Chopped at Home contest Sargento is hosting, my first thought was, "how cool – I wanna do it!" My second thought was, "I hope I don't have to use squid ink, chocolate bars, habanero peppers and turkey in the same dish." Yikes! Seriously … have y'all seen some of the baskets those people get?! I would probably have a meltdown trying to figure out how to use some of those ingredients!
Following the Chopped model, the at-home dishes must include the following ingredients (can include other ingredients, but these should be the focus):
– Sargento® Chef Blends™ Shredded 6 Cheese Italian
– Boneless skinless chicken breast
– Red bell pepper
– Greek yogurt
The cheeses
Easy enough, right? Get your apron on …. because YOU can enter the Chopped at Home contest where they could win $10,000! Get creative and come up with your best Chopped-inspired dish featuring Sargento® Shredded Cheese!
Sargento® Chef Blends™ Shredded 6 Cheese Italian is always cut from blocks of 100% real, natural cheese and it captures the authentic taste of Italy with its amazing flavor blend. It features Mozzarella, Provolone, Parmesan and Fontina, plus Romano and aged Asiago. Use it in all your traditional Italian recipes.
Just for fun, here are a few facts about Sargento ….
Since 1953, Sargento has been dedicated to innovation.
Sargento became the first company to market shredded cheese. Why? Because, they've only been doing it since 1958!
In 1968, Sargento was the first in the industry to use zippered resealable packaging
If you need some inspiration to get you started in the Chopped at Home contest, check out the Sargento Pinterest page or visit Sargento.com for more information! If you're looking for more cheesy goodness, you can find Sargento on Facebook, Twitter and Instagram!
Other Posts You May Enjoy:
Black Bean & Corn Enchilada Quinoa Casserole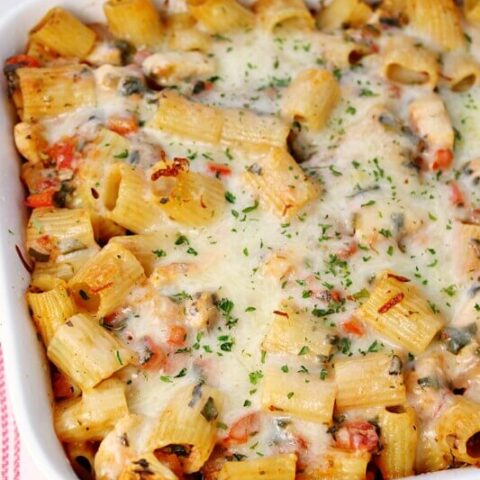 Six Cheese Chicken Pasta Bake
This Six Cheese Chicken Pasta Bake is easy and cheesy!
Ingredients
1 box (16 oz.) pasta - I used Mezzi Rigatoni
2 tbsp. olive oil
1lb. boneless skinless chicken breasts, cut into bite-sized pieces
1 medium onion, chopped
1 red bell pepper, seeded and chopped
4-6 cloves garlic, minced
1 cup packed spinach, tough stems removed and leaves chopped
1 can (14.5 oz.) petite diced tomatoes
1 can (8 oz.) tomato sauce
1 container (5.3 oz.) plain Greek yogurt
2 cups (8 oz.) Sargento® Chef Blends™ Shredded 6 Cheese Italian, divided
1 cup reserved pasta water (get this after you boil the noodles, but before you drain the pasta)
1 tsp. Italian seasoning
1 tsp. crushed red pepper flakes
1 tsp. granulated sugar
Salt and pepper, to taste
Chopped parsley, for garnish (optional)
Instructions
Preheat oven to 350°F. Grease a 9x13-inch casserole dish and set aside.
Cook pasta according to package directions, reserving one cup of water. Drain pasta and set aside.
In a large skillet, heat olive oil over medium-high heat. Add the chicken and cook, stirring occasionally, until chicken is no longer pink. Add the onion, red bell pepper, garlic and spinach. Cook, stirring occasionally, until the onion, bell pepper are soft and the spinach begins to wilt, about 3-5 minutes. Remove from the heat.
To the chicken and vegetable mixture, add the tomatoes, tomato sauce, Greek yogurt, 1 cup of cheese, reserved cooking water, Italian seasoning, red pepper flakes and sugar. Season with salt and pepper to taste. Stir to combine. Add the cooked pasta and stir to combine.
Transfer the pasta mixture to the prepared casserole dish. Sprinkle with remaining cheese. Cover with aluminum foil.
Bake covered in preheated oven for 30 minutes. Uncover the dish and bake an additional 10 minutes or until the cheese is slightly browned and melted.
Sprinkle with chopped parsley before serving, if desired.
Nutrition Information:
Amount Per Serving:
Calories:

474
Total Fat:

17g
Saturated Fat:

7g
Cholesterol:

73mg
Sodium:

719mg
Fiber:

4g
Sugar:

6g
Protein:

30g