OREO Overload Milkshake is a delicious OREO milkshake topped with homemade sweetened whipped cream, chocolate syrup and more OREOS!! #milkshake #oreo #drink
OREO Overload Milkshake
After the day (actually, more than one day, but who's counting?!) I've had, I needed a little treat. A pick-me-up. A milkshake sounded good, but I decided to throw in some Oreo cookies and chocolate syrup … ya know, for good measure!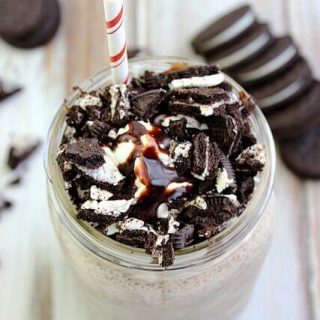 OREO Overload Milkshake
Inactive Time:
10 minutes
OREO Overload Milkshake is a delicious OREO milkshake topped with homemade sweetened whipped cream, chocolate syrup and more OREOS!!
Ingredients
8 OREO cookies, divided
1 cup milk
2 cups vanilla ice cream, slightly softened
Homemade sweetened whipped cream
Chocolate syrup
Instructions
Chop 4 of the OREO's and set aside.
Place the milk, ice cream and remaining 4 OREO's in a blender. Blend until smooth. Divide the mixture between 2 glasses. Top with sweetened whipped cream, chocolate syrup and reserved OREO's.
Serve immediately.
Nutrition Information:
Amount Per Serving:
Calories:

570
Total Fat:

28g
Saturated Fat:

14g
Cholesterol:

70mg
Sodium:

344mg
Fiber:

2g
Sugar:

54g
Protein:

11g
Originally published on May 1, 2014. Updated on April 27, 2021.