Get creative with your Halloween treats and make these Mummy Twinkie Pops! They're so simple and kids love them!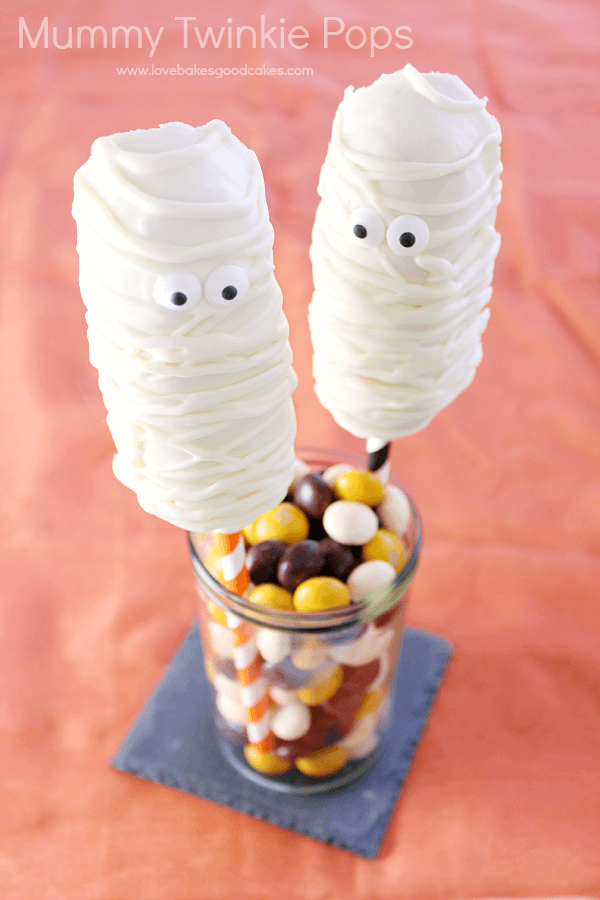 Mummy Twinkie Pops
Hey, y'all! Our family doesn't really celebrate Halloween per se. The kids don't dress up and go trick-or-treating. That doesn't mean we don't like to have fun, though!
Sometimes, we get together with the neighbors for a block party. Sometimes, we do a movie night where we have tons of junk food – lots of pizza, popcorn, and of course, candy! We also love to create fun little treats to eat ….
My kiddos aren't really into the gory, scary stuff. Rather, we like the cutesy Halloween stuff. I knew I wanted a super easy idea this year because let's be honest, who has the time to do elaborate?! Not me. Even though I enjoy shortcuts, I still want people to think I fussed (just keeping it real) …. and these Mummy Twinkie Pops were the perfect thing! They're easy to make (you don't even have to really cook!) and people will think you went out of your way because they're so cool and cute!
originally shared at I Dig Pinterest as part of the 2015 Halloween Extravaganza
Do you have big plans for Halloween? We're deciding between our neighborhood block party or a trip to Southern California to see Grandma …. we need to figure it out soon!
Other Posts You May Enjoy: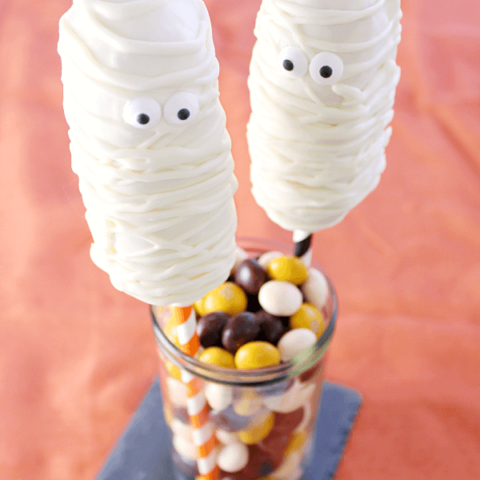 Mummy Twinkie Pops
Get creative with your Halloween treats and make these Mummy Twinkie Pops! They're so simple and kids love them!
Ingredients
1 box (10 count) Hostess Twinkies
1 can (16 oz.) vanilla frosting
20 candy eyes
10 paper straws
Instructions
Lay a piece of waxed paper out on the counter large enough to hold all of the Twinkies with some space in between.
Unwrap all of the Twinkies and insert a paper straw into one end, going about halfway into the Twinkie. Lay the Twinkie Pops on the waxed paper.
Place the frosting in a large microwave-safe bowl and microwave for 30 seconds. Holding one of the Twinkie Pops over the bowl with one hand, carefully spoon the frosting over the top of the Twinkie Pop with the other hand, covering just the top and sides. (Do not cover the back). Let excess drip off. Replace Twinkie Pop back onto the waxed paper to set up. Repeat with remaining Twinkies. If the frosting begins to thicken, microwave for an additional 10-15 seconds to keep it thin.
Once all of the Twinkies are covered, allow remaining frosting to thicken slightly. You want it thin enough to be able to drizzle and still hold its shape. Carefully transfer the remaining frosting into a small zip-top bag. Seal and snip one corner. Drizzle the remaining frosting over the tops over the Twinkie Pops to resemble mummies. Immediately place two eyes on each Twinkie Pop. Allow frosting to set before serving.
Notes
For cleaner edges, lay out another sheet of waxed paper and carefully transfer the Twinkie Pops to the new waxed paper. Discard the old waxed paper.
Nutrition Information:
Amount Per Serving:
Calories:

286
Total Fat:

13g
Saturated Fat:

5g
Cholesterol:

0mg
Sodium:

86mg
Fiber:

1g
Sugar:

40g
Protein:

1g