This Mediterranean Quinoa Salad makes the perfect lunch – it's packed with protein and plenty of fresh veggies!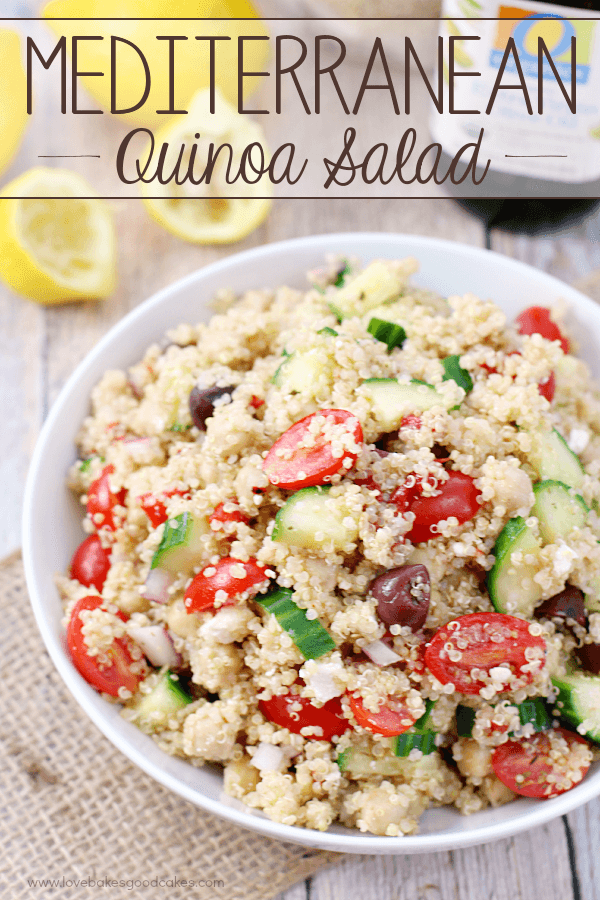 This is a sponsored conversation written by me on behalf of O Organics. The opinions and text are all mine.
Mediterranean Quinoa Salad
Sandwiches are sooooo boring!! How many times have you heard those words from your kiddos?! Ugh!! I have heard them more times than I care to count. Let's be honest, it's so easy to get in a sandwich rut, isn't it?! For the past two years or so, I have tried to be more proactive when it comes to lunch. I know a PB&J or lunch meat sandwich is all too easy – and although there is nothing wrong with those kinds of lunches, it's nice to have an array of meal ideas to choose from!
I have been working diligently to get my family to eat (and like!) quinoa! After making my Black Bean & Corn Enchilada Quinoa Casserole, they were much more receptive to how awesome quinoa can be! I have to say, I have been impressed to how much their attitudes have changed! This Mediterranean Quinoa Salad ranks high on their list of favorite quinoa recipes! The great thing about this salad is it can be a stand alone dish or you can serve it as a side dish! When I have the Mediterranean Quinoa Salad as a side, I like to serve grilled Greek Chicken cut into strips or cubed and a small serving of hummus with pita chips or assorted veggies. My kids absolutely love it!
Quinoa goodness
Quinoa is naturally gluten-free and contains iron, B-vitamins, magnesium, phosphorus, potassium, calcium, vitamin E and fiber. It is one of only a few plant foods that are considered a complete protein and comprised of all pernine essential amino acids. Quinoa is also high in fiber and has a low glycemic index. The addition of garbanzo beans, fresh veggies, and a simple but delicious lemon vinaigrette makes this a lunch idea you will be glad to have in your arsenal!
Not only have I been experimenting with quinoa, but I love when I find an organic version. Safeway has O Organics brand quinoa and I just love it! I have been buying more organic foods in general when I can. Shopping at Safeway makes it easy to find organic options! O Organics offers a wide assortment of delicious organic products, all USDA certified organic to the highest organic standard. The O Organics brand is offered at a value (available exclusively at Albertsons/Safeway stores) and has over 400 product offerings for every occasion!
Fruit leather
My kiddos love fruit leather, but I have never tried making it myself …. I will be trying my hand at this DIY Strawberry Lemonade Fruit Leather very soon! It looks so much easier than I thought it would be!
Here are a few other O Organics recipes that are great for lunch: DIY Strawberry Lemonade Fruit Leather, Chicken Salad Wrap, Turkey Pesto Pinwheels, and Apple Fries with Cinnamon Dipping Sauce.
For the latest news, special offers and more recipes, visit the Safeway website or follow them on Pinterest. You can also find them on Facebook and Twitter.
Other Posts You May Enjoy:
I hope you enjoy! Shared at these fun parties!
Fruit and Almond Quinoa with Apple Vinaigrette
Black Bean & Corn Enchilada Quinoa Casserole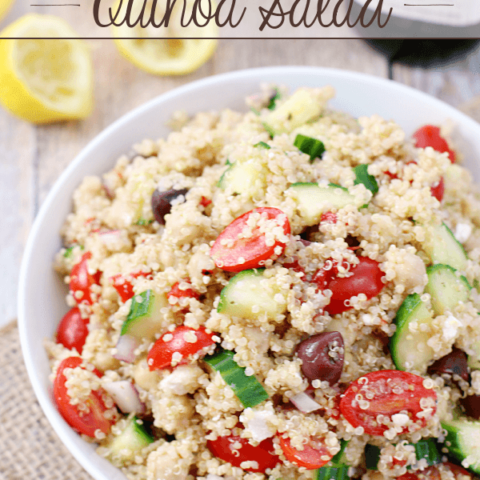 Mediterranean Quinoa Salad
This Mediterranean Quinoa Salad makes the perfect lunch - it's packed with protein and plenty of fresh veggies!
Ingredients
1 cup O Organics quinoa, rinsed
2 cups water
1 can (15 oz.) O Organics garbanzo beans, rinsed and drained
1 cup cherry tomatoes, halved or quartered
1 cup cucumber, chopped
1/3 cup feta cheese, crumbled
1/4 cup red onion, chopped
1/4 cup kalamata olives, sliced
2 cloves garlic, minced
1/2 tsp. dried oregano
Juice of 1 lemon
3 tbsp. O Organics olive oil
Salt and pepper, to taste
Instructions
In a medium saucepan, bring the quinoa and water to a boil over medium-high heat. Reduce the temperature to medium-low and simmer uncovered, stirring occasionally, until the liquid is absorbed. Remove from heat and allow to cool.
In a large bowl, combine the quinoa with the remaining ingredients. Mix until well combined.
Nutrition Information:
Amount Per Serving:
Calories:

306
Total Fat:

13g
Saturated Fat:

3g
Cholesterol:

7mg
Sodium:

612mg
Fiber:

8g
Sugar:

5g
Protein:

11g