This Dutch Baby Pancake with Fresh Berries makes an easy and delicious breakfast! It's almost magical watching it bake up into puffy golden-brown pancake perfection! #12bloggers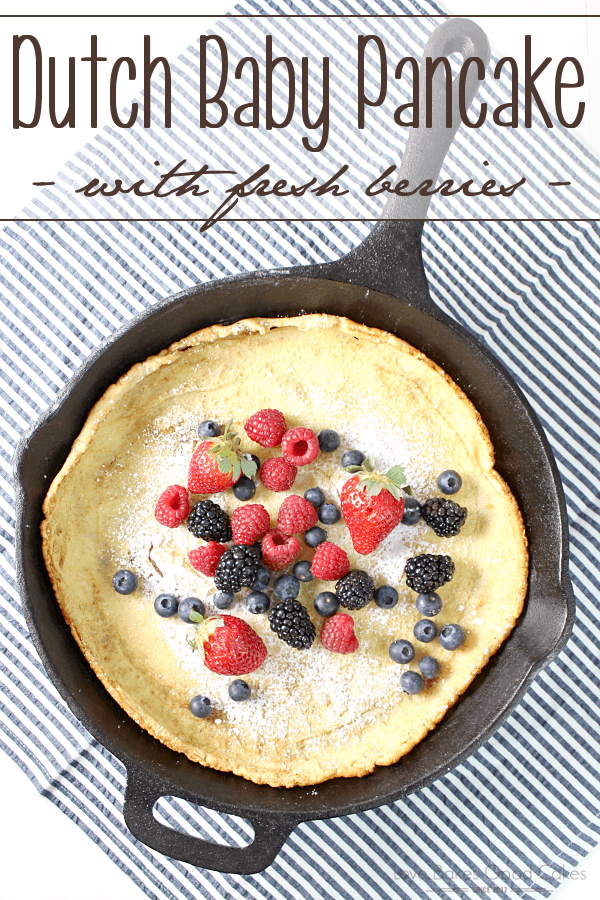 Dutch Baby Pancake with Fresh Berries
So …. I enjoyed being a part of the #12bloggers series so much last year that I decided it would be fun to continue into 2016! If you're not familiar with #12bloggers, here's the deal …. every month, 12 bloggers get together on – you guessed it – the 12 of the month to share a themed recipe with 12 ingredients or less! Pretty cool, huh?! Last year we did themes like 12 Donut Recipes, 12 Best Burger Recipes, 12 Game Day Wing Recipes, and 12 White Chocolate & Peppermint Recipes.
This month's theme is pancakes – and I sure hope you're ready for all of this deliciousness! With 12 new recipes, the hardest part may be deciding which one to try first!
Today, I'm sharing my Dutch Baby Pancake with Fresh Berries! Sometimes, it also called a German Pancake, Puff Pancake, Oven Pancake, Volcano Pancake or a Hootenanny! I'm sure with all of those terms, there are probably more names people call them that I don't know … but whatever you call them, they're all just as delicious! It all starts with a super simple batter that is kind of cool to watch puff up as it bakes!
You can top them like you do a regular pancake …. but we love ours with powdered sugar, a squeeze of lemon juice, lots of fresh berries and maple syrup!
Be sure to stop by and see what my friends made this month!
The Best Homemade Pancake Recipes
Other Posts You May Enjoy: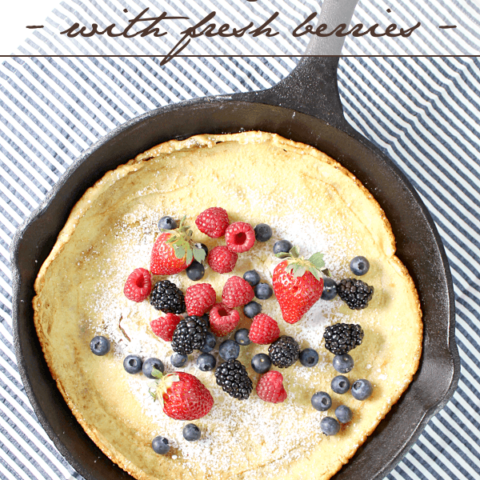 Dutch Baby Pancake with Fresh Berries
This Dutch Baby Pancake with Fresh Berries makes an easy and delicious breakfast! It's almost magical watching it bake up into puffy golden-brown pancake perfection!
Ingredients
3 eggs
2/3 cup milk, room temperature
2/3 cup all-purpose flour
2 tsp. grated lemon peel
1 tsp. vanilla extract
Lemon wedges
Powdered sugar
Fresh berries
Maple syrup
Instructions
Heat oven to 425°F. Put butter in 10-inch ovenproof skillet and place in oven to melt.
Meanwhile, in a small bowl, beat eggs, milk, lemon peel and vanilla extract. Add flour; mix until batter is smooth.
Give the skillet a swirl to make sure the butter coats the skillet, then pour the prepared batter into hot skillet.
Bake 20 minutes or until pancake is puffed and brown.
Squeeze lemon juice over top of pancake; sprinkle with powdered sugar. Top with fresh berries, if desired. Serve immediately with maple syrup.
Nutrition Information:
Amount Per Serving:
Calories:

155
Total Fat:

5g
Saturated Fat:

2g
Cholesterol:

124mg
Sodium:

64mg
Fiber:

1g
Sugar:

4g
Protein:

8g