Have your chimichangas and eat them, too! These Baked Chicken & Avocado Chimichangas are baked not fried – and they're family approved!
Disclaimer: Blendtec provided blenders for the giveaway and the three hostesses for review purposes. No other compensation was received, and, as always, all opinions are my own.
Baked Chicken & Avocado Chimichangas

Welcome to #EatHealthy16 where over 30 bloggers are coming together to share recipes to help you with your start 2016 off on the right track with food that is nutritious and delicious. Brianne of Cupcakes & Kale Chips will have healthy snacks, Jamie of Love Bakes Good Cakes will have healthy meals, and Jenny of The Melrose Family will have healthy desserts, so make sure you follow the #EatHealthy16 hashtag throughout the month of January for tons of inspiration!
We are also excited to be giving all of our readers a chance to win a Blendtec 725 blender and Twister Jar, an over $750 value. Be sure to head over to Clark's Condensed to enter! You have through February 5, 2016, to enter. Giveaway is open to U.S. residents 18 years of age and older. Winner must respond via email with a valid shipping address within 48 hours of being contacted or another winner will be selected. Good luck!
Today, I am welcoming Katie from Clark's Condensed to share a recipe for #EatHealthy16. After you grab the recipe, be sure to head over to her blog and enter the awesome Blendtec giveaway for a chance to win! 🙂
Hello! I'm so excited to be here guest posting on Love Bakes Good Cakes. Jamie is one of my favorite bloggers, and I'm thrilled that I've been invited to share a recipe with you all today.
My history with Chimichangas
My name is Katie, and I blog over at Clarks Condensed. If you like good food (that anyone can make), easy DIY, and cute babies, you might want to check it out. As with the rest of the world, my family has decided to start the year out right by exercising and eating right. So far, we're doing pretty good. That may or may not be impressive though, considering the fact that we're less than 15 days in!
I always like taking recipes that aren't super healthy and making them a little better-for-you. Back when I started college, my brother and I would often get together once or twice a week for dinner. One of our favorite recipes was something we called "queso-changas." Now, as delicious as these were, they were deep fried, full of gooey queso, and pretty much the definition of not good for you. I pretty much swore off those queso-changas for a long time. In fact, I pretty much swore off all chimichangas, since, well, they were usually fried. As much as I wish I was sharing with you a healthier version of the queso-chunga, I don't think it would be possible to make it healthier. So, instead, I'm sharing another chimichanga I have come to love just as much – the chicken avocado chimichanga.
These were a huge hit in our house – from my three-year-old right up to my husband. They have a great flavor, and they are really easy to make!
Find Katie on Facebook, Twitter, Pinterest, and Instagram!
Be sure to check out these other recipes from Katie too!
Copycat Taco Bell Mexican Pizza
Other Posts You May Enjoy:
Red Curry Eggplant and Kale over Cauliflowered Rice
Healthier Version Chicken Parmigiana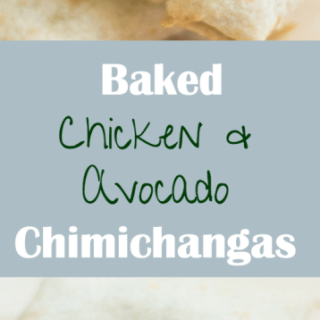 Chicken Avocado Chimichangas
Have your chimichangas and eat them, too! These Baked Chicken & Avocado Chimichangas are baked not fried - and they're family approved!
Ingredients
2 large chicken breasts, diced
Salt and pepper
1 cup shredded cheese (any flavor)
1 avocado, cut into small chunks
1 tablespoon lime juice
1/2 teaspoon garlic powder
1/4 teaspoon cumin
1/2 onion powder
3/4 cup plain Greek yogurt
1 1/2 cup cooked rice
8 large burrito-size flour tortillas (whole wheat is fine)
Instructions
Season chicken with salt and pepper. Cook chicken in coconut oil until no longer pink.

Mix yogurt and mashed avocado together with onion powder, cumin, lime juice, and garlic powder.

Combine with chicken, rice, and avocado mixture.

Place into the center of a tortilla and top with cheese.

Fold tortilla and place seam down on baking sheet.

Bake at 400 degrees for about 20 minutes, or until tortillas start to brown.
Nutrition Information:
Amount Per Serving:
Calories:

405
Total Fat:

19g
Saturated Fat:

6g
Cholesterol:

53mg
Sodium:

504mg
Fiber:

3g
Sugar:

3g
Protein:

22g