Switch up your dinner routine with this Creamy Cauliflower and Leek Soup! It's quick and easy to make and only requires a few ingredients!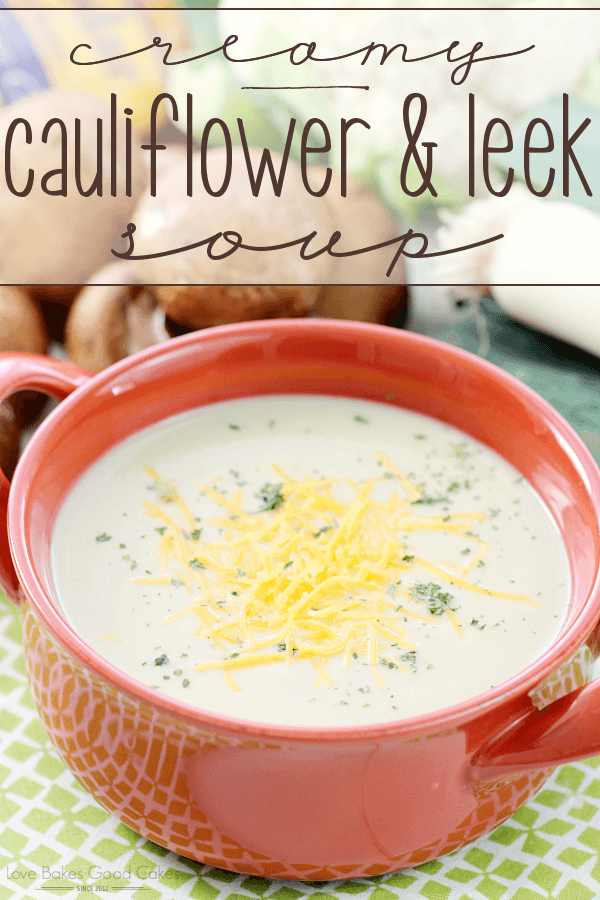 This is a sponsored conversation written by me on behalf of Sargento. The opinions and text are all mine.
Creamy Cauliflower and Leek Soup
I'm a big fan of the show Chopped – do you watch it too?! I love watching the contestants open their ingredient boxes, then come up with a dish using the secret ingredients! Seriously, there are so many creative people and so many great ideas!
I also love a good challenge – so when I was presented with the opportunity to do a Chopped At Home Challenge, you can believe I was ready to get my apron on and do this! My task was simple – create a dish using the secret basket ingredients!
My Chopped At Home Challenge secret "basket" ingredients were: Cauliflower, Crimini Mushrooms, Leeks, and Sargento® Sharp Cheddar Cheese – Fine Cut.
With the theme of comfort food – I immediately knew I wanted to make soup! This soup really is one of the most comforting foods I know! I love using fresh produce in our meals and cheese is a natural addition to so many of our favorite dishes! I was pretty sure that I could come up with a dish that my family would love – the biggest hurdle would be getting it past my picky husband!
Did you know that Sargento cheese is available in 30 versatile varieties, unique blends and distinct cuts, and it is always cut from blocks of 100% real, natural cheese?! I was pretty excited about this basket and I found all of the ingredients easy to work with – I'm just glad I didn't have to work with something crazy like dry roasted crickets or some obscure thing I would have had no idea how to use! 🙂
Making the soup
I used the Sargento cheese as my secret weapon against my husband – knowing I could slide almost anything past him with the cheese in it! Pretty sneaky, huh?!! And believe it or not – Brian thought he was eating POTATO SOUP!! Ha!! When I told him he actually ate cauliflower and leeks he could not have been more shocked! Maybe one of these days he will realize he likes more things than he thinks he does – or at least, be willing to give new things a chance without me having to hide them from him! 😀
You can also submit your recipe to FoodNetwork.com/ChoppedChallenge for the chance to win $5,000 and a trip to New York City to compete in a televised Chopped cooking challenge for a $10,000 grand prize! Be sure to check out the Chopped Challenge website for full entry details. It would be so awesome to see a Love Bakes Good Cakes reader win!
For more inspiration, check out the Sargento Pinterest page or visit www.sargento.com/Shredded for more information.
This soup really hit the spot! We served it with some crusty bread and we are already looking forward to the next time we have it! We might top it off with a little bacon the next time just to change things up a bit!
Other Posts You May Enjoy:
Creamy Cauliflower and Leek Soup
Switch up your dinner routine with this Creamy Cauliflower and Leek Soup! It's quick and easy to make and only requires a few ingredients!
Ingredients
For the soup
1/4 cup olive oil or butter
3 leeks, root and tough dark green tops removed, white and light green parts cleaned and chopped
2-3 cloves garlic, minced
1 pkg. (8 oz.) Crimini mushrooms, brushed clean with damp towel
1 head cauliflower, chopped
1/4 cup all-purpose flour
1 carton (32 oz.) vegetable stock
3 cups water
Salt and pepper, to taste
1 1/2 cups Sargento Sharp Cheddar Cheese, Fine Cut
Garnish
Sargento Sharp Cheddar Cheese, Fine Cut and parsley (optional)
Instructions
Add the olive oil in a Dutch oven or soup pot over medium-high heat. Add the chopped leeks. Cook, stirring often, until the leeks are soft, about 4-5 minutes. Add the garlic and cauliflower and cook for an additional 1-2 minutes.
Stir in the flour and stir well to combine. Add the vegetable stock and water, stirring well. Season with salt and pepper. Bring to a boil, then lower heat to simmer 15-20 minutes or until the cauliflower is tender.
Using an immersion blender, blend the soup until it is smooth.
Stir in the cheese until melted. Serve immediately.
Notes
You may use a regular blender instead of an immersion blender. Work in batches and use caution! Be very careful when pureeing hot liquid in a blender or food processor as hot liquid expands!
Nutrition Information:
Amount Per Serving:
Calories:

278
Total Fat:

19g
Saturated Fat:

7g
Cholesterol:

29mg
Sodium:

1132mg
Fiber:

3g
Sugar:

4g
Protein:

11g