This post may contain affiliate links. As an amazon associate, I earn from qualifying purchases. See my full Disclosure Policy for details.
I am so excited to welcome Evelyn from My Turn For Us. She was one of my very first bloggy friends and has always been one of my biggest cheerleaders! She helps keep me in line and gives me that extra bit of courage when I need it! She shares great recipes and the occasional craft or tidbit about life on her ranch in Texas! I am so thrilled to have her here today! Be sure to stop by her blog and enter to win the NINJA Supra Kitchen System that she is giving away! Round out dinner by checking out Cupcakes & Kale Chips for some Healthy Desserts or The NY Melrose Family for some Healthy Snack Ideas in our #EatHealthy15 Series.
This Chicken Parmigiana has all the flavor of the original, but with a few changes that make a big difference.
I'm Evelyn from
My Turn for us
and I am so excited to be here visiting with everyone today and wish to thank one of my best buddies, Jamie for the lovely invite!! Just like you l am a major fan of Love Bakes Good Cakes and am honored to be able to share this lower-calorie recipe with all of you.
I am trying to be a little healthier and lose a few pounds in the process, but I refuse to give up my favorite dishes. This Chicken Parmigiana has all the flavor of the original, but with a few changes that make a big difference.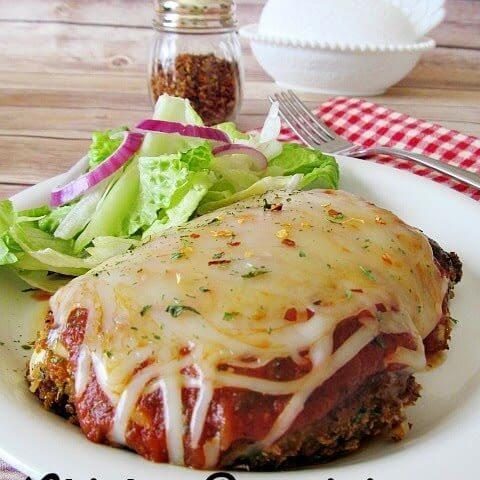 Chicken Parmigiana-Healthier Version
This Chicken Parmigiana has all the flavor of the original, but with a few changes that make a big difference.
Ingredients
3/4 cup of All Bran Cereal
1/2 teaspoon basil
1/4 teaspoon oregano
1 tablespoon dried parsley
1/2 teaspoon garlic
1/8 teaspoon salt
1/8 teaspoon black pepper
1/2 cup of pasta sauce
1/2 cup of liquid egg substitute
2 boneless skinless chicken breasts, 4 oz pounded to 1/2 inch thickness
1/2 cup low-fat Mozzarella cheese, shredded
crushed red pepper flakes, to taste (optional)
Instructions
In a blender or food processor grind cereal into crumbs. Transfer into a shallow bowl, add basil, oregano, parsley, garlic, salt and pepper.
Place egg substitute into a second shallow bowl.
One at a time, dip chicken breasts into egg substitute, shaking off excess, then coat with the crumb mixture.
Coat large skillet with cooking spray, heat over medium heat.
Add chicken breasts to skillet, cook, turning once, until no longer pink in center, about 4-6 minutes per side.
Spread about 1/4 cup of sauce over chicken in skillet, sprinkle with half the cheese.
Reduce heat to low, cover. Cook until cheese melts. 2-3 minutes, sprinkle with crushed red pepper flakes (optional)
Nutrition Information:
Amount Per Serving:
Calories:

316
Total Fat:

8g
Saturated Fat:

3g
Cholesterol:

112mg
Sodium:

423mg
Fiber:

4g
Sugar:

4g
Protein:

36g
My favorite way to serve this dish is with steamed asparagus and a fresh crisp salad with low-fat Italian dressing. That makes a great low-calorie meal!
I hope you enjoy this dish and wish you loads of luck with your goals for a healthier you! You can do it, just take one day at a time and eat exactly today what you need to eat, get a little more active and just enjoy your life!!
Here are some other great suggestions to help us stay on our healthier weight loss goals:
Don't forget to swing by
My Turn For Us
and enter for a chance to win a NINJA Supra Kitchen System as part of the #EatHealthy15 series!
Other Posts You May Enjoy: