Treat yourself to a favorite spring flavor with these Carrot Cake Blossom Cookies! Carrot Cake flavored cookies with Carrot Cake flavored KISSES!!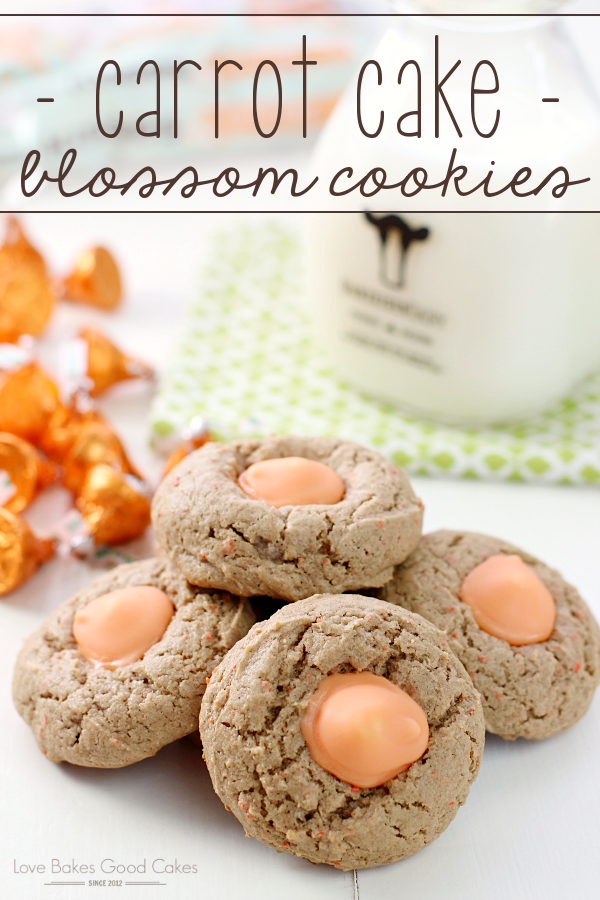 This post may contain affiliate links. As an amazon associate, I earn from qualifying purchases. See my full Disclosure Policy for details.
Carrot Cake Blossom Cookies
I know I have mentioned it before, but really, it bears repeating … I'm over winter and I'm ready for all things spring. You will notice that most of my recipes will start shifting in that direction. It's hard not to be in a spring mood when you're breaking weather records left and right! We've not only broke the daytime high record numerous times but we've also reached 90 degrees the earliest ever on record here in Phoenix!
I think it's safe to say that winter is the furthest thing from my mind with weather like this, eh?!
Special Kisses
While I was doing my grocery shopping earlier this week, I decided to check out the whole store. I'm usually a stick to my list kind of person – except when the seasons change or when holidays are coming up. I like to browse the aisles for new products or things that I think I can use to make something fun or yummy for the blog! Okay, my family kinda likes it too! 🙂
Knowing that they were switching out all of the Valentine's stuff for spring stuff, I had to take a stroll down the candy aisle. Hershey's has a new kind of KISSES out right now … have you seen them?! Maybe you have heard about them because it seems like everyone is talking about them. They're Carrot Cake flavored KISSES and I think they taste pretty darn good! So good, that I was inspired to switch up one of our favorite cookies, Peanut Butter Blossoms. It turned into a yummy treat, perfect for spring.
I got everything off to an easy start by using a carrot cake pre-packaged cake mix! With just a few other common ingredients, these cookies were done in no time!
By the way, this is not a sponsored post. I just really enjoyed these cookies and wanted to share the recipe with you!! 🙂
Are you fan of carrot cake? What are some of your favorite spring flavors?
Other Posts You May Enjoy:
Strawberry Shortcake with Lemon Cream Sauce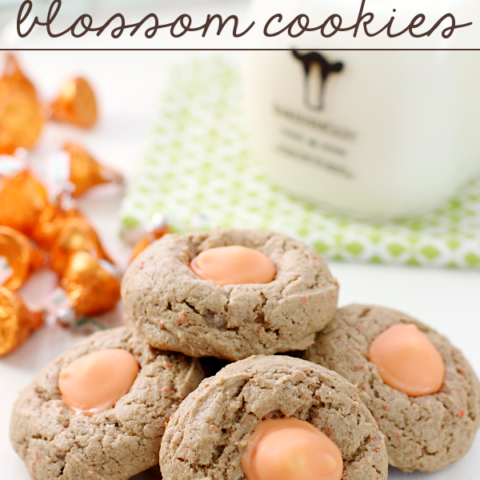 Carrot Cake Blossom Cookies
Treat yourself to a favorite spring flavor with these Carrot Cake Blossom Cookies! Carrot Cake flavored cookies with Carrot Cake flavored KISSES!!
Ingredients
1 box (15.25 oz.) carrot cake prepackaged cake mix
1/3 cup vegetable oil
1 tsp. vanilla
2 large eggs
25-30 Hershey's KISSES - Carrot Cake flavored
Instructions
Preheat oven to 350°F (set temperature to 325°F for dark or nonstick pans). Line a baking sheet with parchment paper or a silicone baking mat. Set aside.
In a large bowl, mix cake mix, oil, vanilla and eggs with a wooden spoon or rubber spatula until dough forms.
Refrigerate dough 15 to 30 minutes or as needed for easier handling. Shape dough into 1-inch balls. Place balls about 2 inches apart on baking sheet.
Bake 9 to 11 minutes or until set. Remove from the oven and immediately press one Hershey KISSES into the center of each cookie. Allow cookies to cool on the pan for 3 minutes before transferring to a wire rack to cool completely.
Store tightly covered.
Nutrition Information:
Amount Per Serving:
Calories:

130
Total Fat:

4g
Saturated Fat:

1g
Cholesterol:

15mg
Sodium:

156mg
Fiber:

2g
Sugar:

3g
Protein:

2g