Do you ever feel like you get tired of making the same ol' banana bread recipe? Sometimes, you need a new way to use those over-ripe bananas. This Black-Bottom Banana Bar recipe is sure to fit the bill!
It's kid tested and mother approved! 😉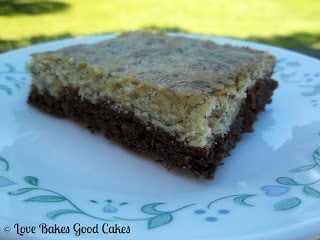 Black-Bottom Banana Bars
Yield: 18 servings
½ cup butter, softened
1 cup sugar
1 large egg
1 tsp. vanilla extract
3 very ripe, medium bananas
1½ cups all-purpose flour
1 tsp. baking powder
1 tsp. baking soda
½ tsp. salt
¼ cup baking cocoa powder
Preheat oven to 350° F. Grease a 9×13-in. baking pan and set aside.
In a large mixing bowl, cream together the butter and sugar with an electric mixer on low speed. Add the egg and vanilla. Mix on medium speed until thoroughly combined. Blend in the bananas. Scrape down the sides of the bowl with a rubber spatula and mix for one minute more.
In a separate bowl, combine the flour, baking powder, baking soda and salt. Add to the banana mixture and mix well, scraping down the sides of the bowl once with a rubber spatula.
Divide the batter in half. Add cocoa powder to half of the batter. Spread the cocoa mixture into the prepared pan. Carefully spoon the plain batter on top of the cocoa batter. Level out.
Bake for 25 minutes or until a toothpick inserted near the center tests clean. Remove to a wire rack to cool completely.
To serve, cut into bars.
I hope you enjoy!

Shared at these
fun parties!

**Don't forget to link up YOUR Soup Recipes HERE**


Copyright © Love Bakes Good Cakes 2012 All Rights Reserved