Summer grilling may never be the same! These Creamy Chipotle Spicy Black Bean Burgers are a tasty way to enjoy meatless!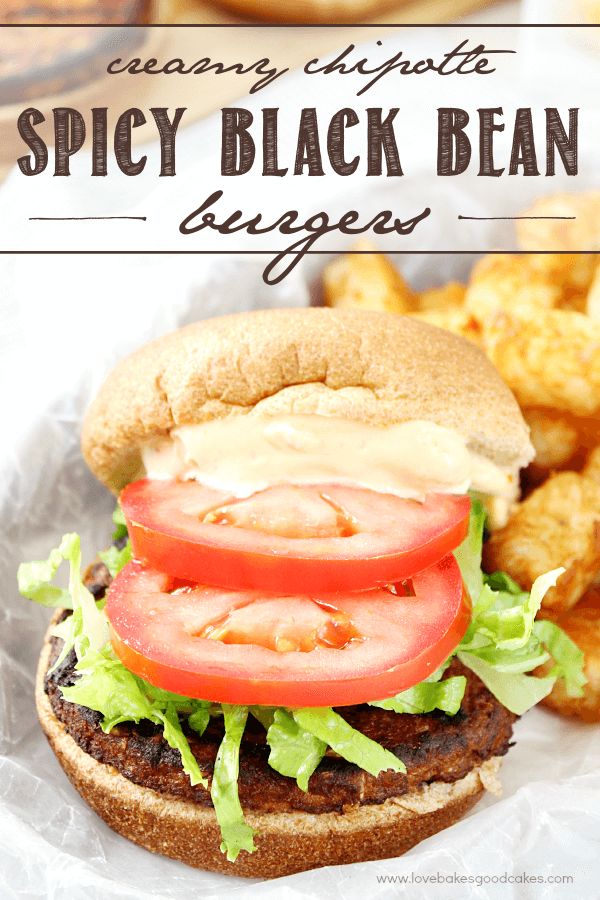 This post may contain affiliate links. As an amazon associate, I earn from qualifying purchases. See my full Disclosure Policy for details.
This shop has been compensated by Collective Bias, Inc. and its advertiser. All opinions are mine alone. #GrillWithATwist #CollectiveBias
Creamy Chipotle Spicy Black Bean Burgers
Many of you know that we love to grill in the Love Bakes Good Cakes house – especially in the summer or when we are entertaining! There is just something about food hot off the grill … it just tastes better, doesn't it?
A few months ago, I made the choice to start adding more meatless meals to our dinner menu. Last week, I heard about and took the Veg of Allegiance – it's a pledge to go meatless for a number of meals that you select yourself! Our goal was to have at least one meatless meal a week working our way up to at least two meatless meals a week. You can take the Veg of Allegiance too – stop by the MorningStar Farms website for more information.
As mentioned, I have been working on getting more meatless meals into our dinner menu. If you know my meat-loving family, then you know that is not always an easy task … it's often met with resistance. Thanks to some of the MorningStar Farms line of products, they are learning that meatless can still be delicious! You know you have something good on your hands when you meat-loving husband asks you if there are any burgers left so he can have another one … and then asks if we can have the same meal again next weekend! Score! I might switch up the burgers for the 4th of July weekend, though! I might try the MorningStar Farms Mediterranean Chickpea Burger or I might try an Asian twist on the Garden Veggie Patties!
MorningStar Farms Burgers
If you're entertaining this summer – don't forget to pick up some MorningStar Farms Burgers at your local Target! Meat-lovers and vegetarians alike enjoy the products! All of your guests can enjoy tasty burgers hot off the grill – no matter what their dietary needs are! Morningstar Farms is the perfect product to help savor flavor using "Veggie Cuisine". Grilling with "veggie cuisine" using MorningStar Farms provides a healthy option for you, your family, or your guests but still brings great flavor to your dishes.
Before you head out to go shopping, be sure to use the Cartwheel offer: Available 6/28-7/4. Save 20% on MorningStar Farms products.
I've shared this tasty Creamy Chipotle Spicy Black Bean Burgers recipe with you as a meatless meal option the whole family will love. What is one of your favorite meatless meals? I would love for you to leave me a comment!
For the latest news, special offers and more delicious recipes, follow MorningStar Farms on Facebook, Twitter, Instagram or Pinterest!
Other Posts You May Enjoy:
The ULTIMATE List of No-Bake Desserts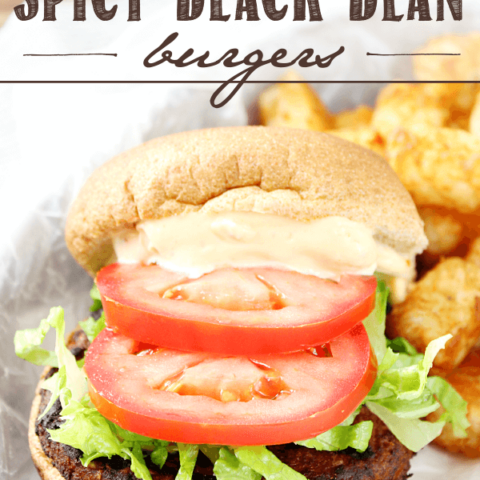 Creamy Chipotle Spicy Black Bean Burgers
Summer grilling may never be the same! These Creamy Chipotle Spicy Black Bean Burgers are a tasty way to enjoy meatless!
Ingredients
For the Chipotle Mayo
1/2 cup mayonnaise
2 chipotle chilies in adobo sauce
2 tablespoon freshly squeezed lime juice
For the burgers
1 box (18.9 oz.) MorningStar Farms Spicy Black Bean Burger
8 hamburger buns
Chopped lettuce
Sliced tomatoes
Instructions
In a food processor, combine the mayonnaise, chipotle chilies, and lime juice. Pulse until smooth and well blended. Cover and refrigerate until serving time.
Grill or cook the MorningStar Farms Spicy Black Bean Burgers according to package directions.
To assemble the burger: Place one burger on the cut side of the bottom portion of the bun. Top with lettuce and tomatoes. Spread some of the chipotle mayo over the cut side of the top portion of the bun. Replace bun over the top of the burger.
Nutrition Information:
Amount Per Serving:
Calories:

349
Total Fat:

17g
Saturated Fat:

3g
Cholesterol:

7mg
Sodium:

835mg
Fiber:

5g
Sugar:

5g
Protein:

14g