Take a break from the hectic holiday season with these Caramel-Studded Snickerdoodles and your favorite Bigelow tea! These cookies are perfect for holiday cookie trays too! #MeAndMyTea #ad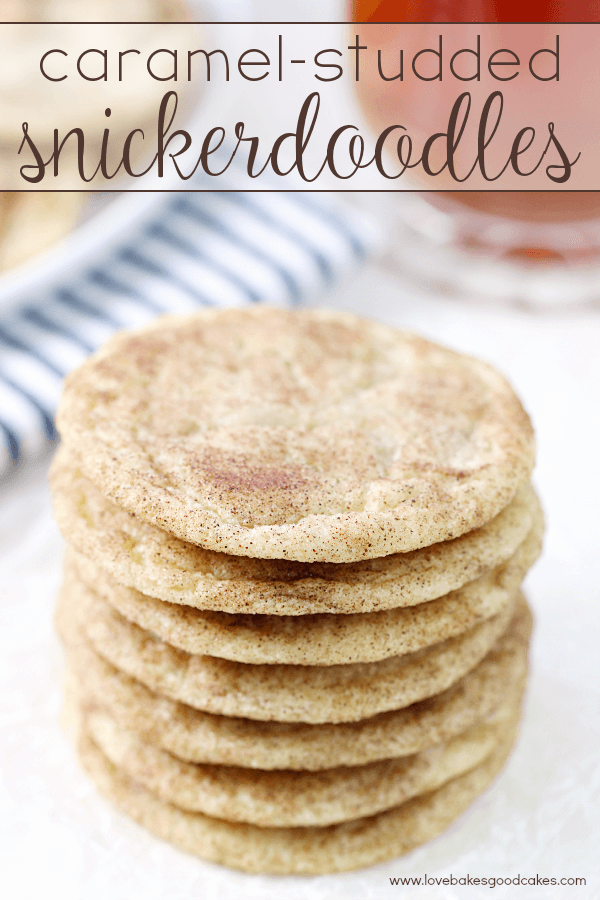 This shop has been compensated by Collective Bias, Inc. and its advertiser. All opinions are mine alone. #MeAndMyTea #CollectiveBias
Caramel-Studded Snickerdoodles
So, Christmas is less than two weeks away .. are you ready?! You may remember me mentioning that I wanted to get as much done as soon as I could because procrastinating gives me serious anxiety. Although I have all of my shopping done, I still have wrapping to do. Every single time I think to myself that I'll get it done, I find an excuse not to do it.
Please tell me it's not just me ……
My latest excuse was that I needed wrapping paper and gift tags. I have somehow managed to misplace the tags that I had from last year and I know I don't have enough wrapping paper for all of the gifts. Of course, that means a shopping trip (and by shopping trip, I mean I will also be buying more "gifts" to wrap in addition to the things I am actually going to the store for – am I the only one who does this, too?!)
While shopping at Walmart, I got what I needed to wrap up the Christmas presents (and a few other things! Ha!). I also picked up a few of my favorite Bigelow Tea varieties. Not only do I enjoy Bigelow Tea, but with the holidays coming, I know our family and friends will enjoy them as well! During this time of the year, I like to keep a few varieties of cookies on hand – they're great for when guests stop by and they go so well with my assortment of Bigelow Tea!
Make time for tea
I try to find a few moments of peace and quiet each day, and I think it's essential during this time of the year! I'm not sure about you, but for me, it is so easy to feel overwhelmed with all of the hustle and bustle of the season! I love sipping on Bigelow Tea throughout the year, but it's especially nice during the cold of winter! Whether I'm relaxing with a good book, baking up some of our favorite treats or sharing a cup of tea with a friend, Bigelow Tea is the brand I know and love!
Bigelow Constant Comment, Bigelow Pumpkin Spice, and Bigelow Salted Caramel are some of my favorite tea varieties this season. The Bigelow Salted Caramel Tea pairs well with my Caramel-Studded Snickerdoodles! I have to admit, it has been the perfect afternoon treat for me the past few days – a cup of Bigelow Salted Caramel Tea and a cookie (or two!).
Be sure to make an extra batch or two of these Caramel-Studded Snickerdoodles. They're perfect for gift giving or cookie trays during the holiday season! Be sure to include a box or two of Bigelow Tea, too! 🙂
These Caramel-Studded Snickerdoodles are one of my family's favorites! What is your favorite cookie to go along with tea? Leave a comment letting me know!
Don't forget to PIN IT!
Other Posts You May Enjoy: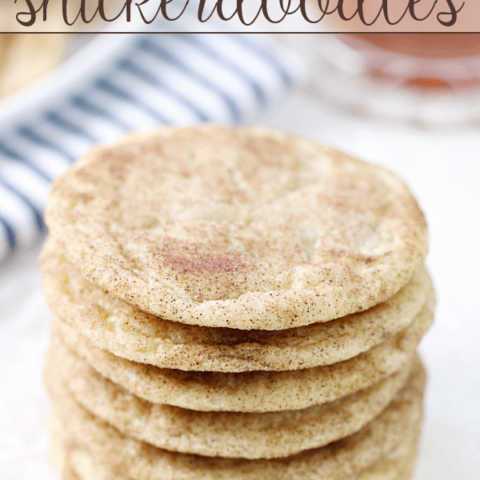 Caramel-Studded Snickerdoodles
Take a break from the hectic holiday season with these Caramel-Studded Snickerdoodles and your favorite Bigelow tea! These cookies are perfect for holiday cookie trays too!
Ingredients
1/2 cup butter, softened
1/2 cup shortening
1 1/2 cups granulated sugar
2 eggs
2 tsp. vanilla extract
2 3/4 cups all-purpose flour
2 tsp. white (distilled) vinegar
1 tsp. baking soda
1 bag (11 oz.) caramel bits
3 slightly heaping tbsp. white sugar
3 1/2 tsp. ground cinnamon
Instructions
Preheat oven to 400°F.
Cream together butter, shortening, 1½ cups sugar, the eggs and vanilla extract. Blend in the flour, vinegar, and baking soda. Stir in the caramel bits. Shape dough by rounded spoonfuls into balls.
Mix the 3 tbsp. sugar and the cinnamon in a small bowl. Rolls balls of dough in cinnamon-sugar mixture. Place 2 in. apart on ungreased baking sheets.
Bake exactly 8 minutes. Remove from oven and let cool on baking sheets about 2-3 minutes. Transfer to cooling rack to cool completely.
Nutrition Information:
Amount Per Serving:
Calories:

118
Total Fat:

5g
Saturated Fat:

2g
Cholesterol:

12mg
Sodium:

45mg
Fiber:

0g
Sugar:

11g
Protein:

1g