I'm not a cookie baker usually - I really only enjoy it around the holiday's. I don't have the patience to watch and wait and switch pans constantly. In my opinion, Christmas just isn't the same without a few dozen homemade cookies - so this is the one time of the year, that I will suck it up and make the concession. I usually employ my children to help, which they thoroughly enjoy!
I knew I wanted to try this recipe from Annie Eats for this year's sugar cookies - I hate to admit it, but I kind of like those soft, frosted cookies you buy at the store in the clear containers. I don't buy them often because to me, they are so expensive and I'd rather make them myself. This recipe is pretty spot-on ... so save your money and make them yourself! I would not change anything about the recipe - they were perfect! I just made these Wednesday (as in, the day before yesterday) and we are planning on making more over the weekend! Don't worry, we didn't eat them all - the first batch got sent to work with Brian, so we need more - right?!
Soft Sugar Cookies
Yield: about 24-28 large cookies
For the cookies:
1½ cups (
3 sticks) butter
4½ cups all-purpose flour
Frosting:
⅓ cup (5⅓ tbsp.) melted butter
Preheat oven to 350°F. If desired, line cookie sheets with parchment paper and set aside.
For the cookies: In a large bowl, cream the butter and sugar until light and fluffy. Add the eggs one at a time, scraping down the bowl after each addition. Add the vanilla and mix well. In a separate medium bowl, combine the flour, baking powder and salt. Give it a good stir with a whisk. Add the dry ingredients to the wet ingredients and mix just until it is all incorporated and uniformly mixed. Cover and refrigerate for at least an hour.
After the dough has chilled, scoop scant quarter-cupfuls of the dough. Roll into balls and flatten slightly. Place on the prepared pans 2-3 inches apart. Bake 10-12 minutes or until the cookies are set and the edges just begin to brown. Do NOT overbake! Allow to cool on the pan for 4-5 minutes then transfer to a cooling rack to cool completely.
Meanwhile, prepare the frosting: Place the powdered sugar in a medium bowl. Add the melted butter, vanilla and 7 tbsp. of milk. Mix until well combined, adding additional milk, 1 tsp. at a time, only if necessary. Tint the frosting with your choice of food coloring, if desired. Frost cooled cookies and top with sprinkles, if desired.
To maintain freshness, store in a covered container. I would suggest putting waxed paper between the layers.
I hope you enjoy!
Shared at these fun parties!
Featured at Foodie Friends Friday - Daily Dish
**Don't forget to link up YOUR Soup Recipes HERE**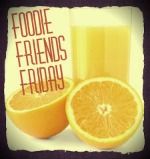 Copyright © Love Bakes Good Cakes 2012 All Rights Reserved