Enjoy an Old-Fashioned Custard Pie with your next dinner meal. There is nothing quite like a good custard, and this pie really delivers.
This post may contain affiliate links. As an amazon associate, I earn from qualifying purchases. See my full Disclosure Policy for details.
I was compensated for this post but the views and opinions expressed in this post are solely mine. WhiteWave is providing the prizes for this program at no cost to me. This giveaway is not administered by WhiteWave or its affiliates, but solely by myself.
Old-Fashioned Custard Pie and a Silk®
Silk® is celebrating Earth Month! Did you know there are simple actions we can take to help conserve water?! Silk® loves water and is committed to conserving one of our most precious natural resources! This Old-Fashioned Custard Pie is just like the ones Grandma used to make! Sweet, creamy and bakes up perfectly! #pie #dessert #custard #yaywater #sponsored
Silk® Products
Some of you may already know that I love Silk® milk! What you may not know is, Silk® not only provides delicious, plant-based nourishment, but they also conserve water because producing Silk® saves 500 gallons of water per half gallon over conventional dairy milk! Of course, it is everyone's responsibility to do our part! Silk® is partnering with The Nature Conservancy to help advance water conservation efforts across the U.S. For every 'share' of one of Silk's® Earth Month videos, they will donate $1.00 to The Nature Conservancy (up to $20,000!!) How easy is that?! All you have to do is share a video to donate!
Silk® is also inviting consumers to share their fun and nostalgic water-filled moments using the #yaywater hashtag for a chance to win one of 200 indoor or outdoor eco-friendly prize packs or one of five grand prizes!!
Silk wants you to help us celebrate water! Every time you share one of Silk's water conservation videos, Silk will donate $1 to The Nature Conservancy (up to $20,000) to help with water conservation efforts.
You may be wondering, "what can I do to help conserve water?' I was surprised at just how easy it is with small changes! Here are some ideas:
You can:
Reduce the time it takes to wash your hair in the shower by two minutes and you'll save an average of 18 liters of water per shower!
Turn off the water while brushing your teeth to save hundreds of gallons each year! The average person uses about one gallon of water while brushing – equaling 730 gallons of water when brushing twice per day!!
Change your shower-heads to low-flow models to save up to a half-gallon of water per minute of shower time!
Switch your water-using appliances to energy efficient models! Newer models of dishwashers use as little as four gallons of water per load, compared to 20 gallons used by older models! Front-loading washers use about 20 gallons of water per load, compared to 40 gallons of water for older top-loading models. Energy-efficient toilets use as little as one gallon of water per flush, compared to about three gallons of water for more dated models.
I don't know about you, but just seeing my utility bills go down would be an added bonus!!
Using Silk®
Switching from dairy milk to Silk® was easy for me …. I've never been a fan of dairy milk. I love using Silk® in my favorite recipes that call for regular dairy milk … like this Old-Fashioned Custard Pie made with Silk® Vanilla Soy Milk!
You can keep up to date on all of the Silk® news and special offers on Facebook!
Other recipes you may enjoy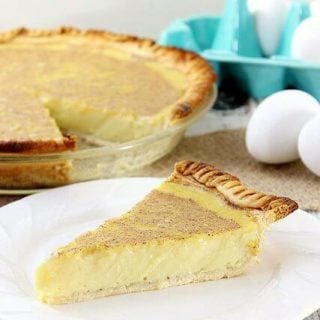 Old-Fashioned Custard Pie
Ingredients
Pastry for one 9-in. pie crust (homemade or store-bought)
4 large eggs
1/2 cup granulated sugar
2- 1/2 cup whole milk
1 teaspoon vanilla extract
1/2 teaspoon salt
1/4 teaspoon ground nutmeg
Instructions
Move the oven rack to the lowest position.
Preheat oven to 450°F. Line a pie plate with the pastry for the pie crust. Set aside.
In a medium bowl, beat the eggs slightly with a whisk. Beat in the sugar, milk, vanilla, salt, and nutmeg. Pour the filling into the pie plate.
Bake for 20 minutes on the lowest rack. Reduce oven temperature to 350°F and continue to bake for an additional 10-15 minutes or until a knife inserted halfway between the center and the edge comes out clean.
Refrigerate at least 4 hours. Immediately refrigerate any remaining leftover pie after serving.
Notes
Cover the edges of the pie with aluminum foil if needed to prevent them from burning.
Nutrition Information:
Amount Per Serving:
Calories:

127
Total Fat:

4g
Saturated Fat:

1g
Cholesterol:

93mg
Sodium:

220mg
Fiber:

0g
Sugar:

16g
Protein:

6g
Originally published on April 16, 2014. Updated on April 26, 2021.