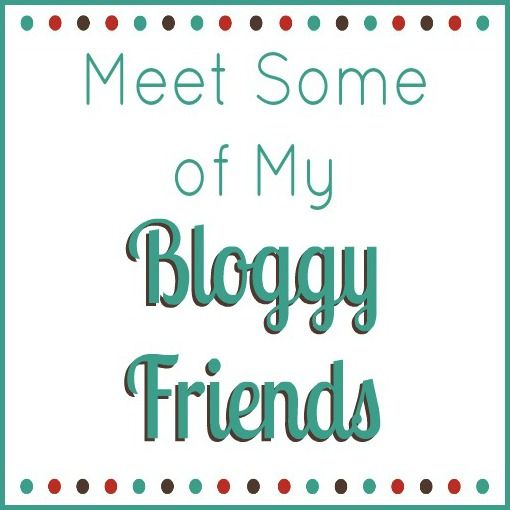 Hi y'all! While I'm moving and getting adjusted, some of my bloggy friends have written posts for me! I hope you enjoy this series and find some wonderful new blogs to follow! A big hug and thank you to the bloggers who have stepped in for me during my absence. 🙂 Today, let me introduce you to Jaime from
Mom's Test Kitchen
: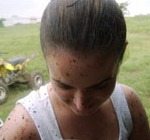 I'm so excited to be here guest posting for Jamie! I absolutely adore her & her blog! I should probably introduce myself, huh? I'm the other Jaime, the wife and momma behind
Mom's Test Kitchen
, my little space in the blog-o-spere where I share the recipes I make for my family. You won't find anything too fancy over in my kitchen, just good simple recipes that a mom can make while stepping around a 2 year old & her puppy!
We live in Texas & it's pretty much a cardinal sin to use your oven during the summer time so I tend to make up for it come winter by baking lots & lots of casseroles! Not only are casseroles easy, but they tend to be cost effective & we love to pack them full of vegetables & have meatless dinners!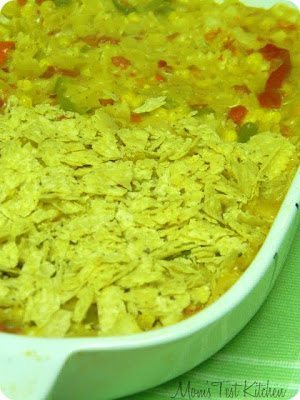 We're also big fans of Mexican food, probably another side effect of living in Texas! This Southwestern Pasta Casserole worked perfect for us as a meatless meal, but it would be excellent with the addition of some pre-cooked chicken!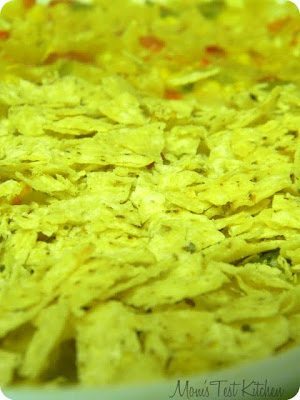 *You're probably wondering why half of the dish has crushed tortilla chips & half doesn't ~ the Hubs didn't want chips on top of his so I simply did half & half!*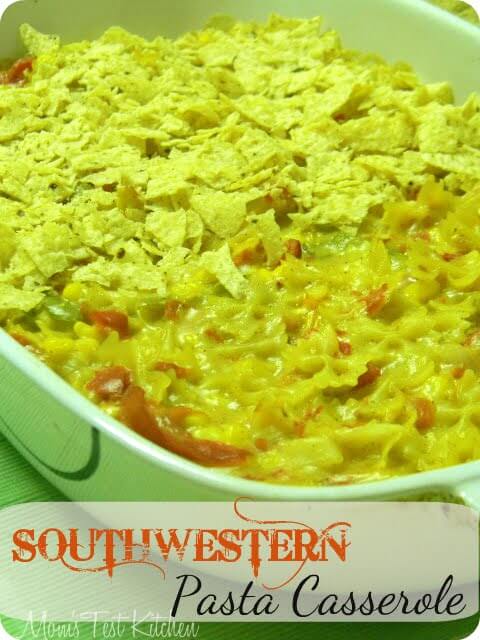 Yield: 4 large servings
INGREDIENTS:
1/2 pound pasta ~ I used mini farfalle
3 tablespoons butter
2 cups frozen pepper & onion blend
1 cup frozen corn
1 can (10 ounces) Rotel
1/4 cup flour
2 cups chicken broth
1/3 cup whole milk
2 teaspoons ground cumin
1/2 – 1 teaspoon crushed red pepper flakes
2 cups finely shredded mozzarella cheese
tortilla chips, crushed
INSTRUCTIONS:
Preheat the oven to 350 degrees.
Cook the pasta in a large pot according to the package directions but for half of the time recommended ~ the pasta will continue to cook in the oven. Drain & set aside.
In a large skillet, melt the butter and add the onions & pepper blend and the corn. Saute until tender. Stir in the Rotel.
Slowly add in the flour and stir. Cook for about 2 minutes, then pour in the chicken broth and milk. Increase the heat to thicken the sauce. Sprinkle in the cumin & red pepper flakes. Add the cheese & pasta to the sauce with veggies & stir to combine ~ depending on the size of your skillet you make want to do this in your casserole dish.
Pour into a 9×13 casserole dish. Top with the crushed tortilla chips ~ as many or as few as you'd like ~ and bake for 20 minutes or until hot & bubbly.
If you like this recipe, I hope you'll stop by & check out some of my
others
! You can also stay up to date on my newest recipes by joining any of my social network communities!
Thank you for stopping by, Jaime! 🙂 Be sure to stop by and say hello!
I hope you enjoy! Shared at these
fun parties!

Don't forget to share and comment ♥

Where you can find Love Bakes Good Cakes:
Facebook / Twitter / Pinterest / Google+ / RSS


Copyright © Love Bakes Good Cakes 2012 All Rights Reserved