These Chocolate Swirl Blondies are the perfect treat for any afternoon or evening. Dark chocolate and sea salt swirled into a classic honey blondie bar, trust me friends, honey has never tasted so good.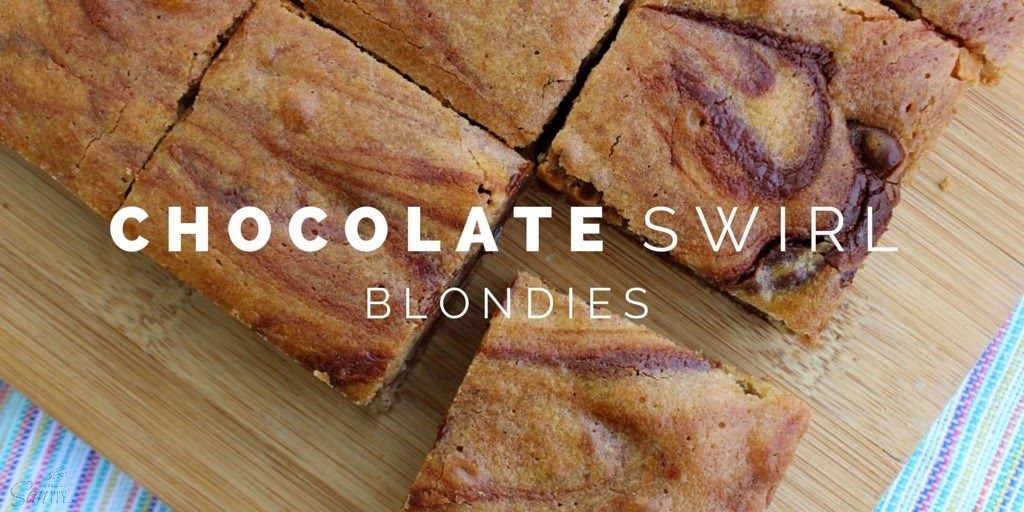 Hey friends, welcome back to Foodie Friday!
Where every 2nd Friday of the month I, Sandra from
A Dashof Sanity
, will be sharing one of my favorite recipes with the friends and followers of Love Bakes Good Cakes.
I love easy bar recipes for the spring and summer months. Fun to take to barbeques and to the pool. I love blondies they are literally one of my most favorite treat. Honey Blondies are my favorite!
So today I took those bars and stepped them up a notch adding sea salt and chocolate chips. YUM!
Need an easy recipe for the summer time, wait it's not summer. But I so need summer to be here like now. So while I am waiting ever so patiently I will make these Chocolate Swirl Blondies and they will make waiting worth it by every bite.
Enjoy!
XOXO San
Chocolate Swirl Blondies
Ingredients:
1 (1/2 cup) stick butter
1 ¼ cups all-purpose flour
½ cup honey
¾ light brown sugar, packed
1 egg, beaten
2 teaspoons vanilla extract
1 teaspoon coarse sea salt
½ cup dark chocolate chips
Directions:
Preheat oven to 350 degrees.
Spray an 8×8 inch square baking pan with cooking spray and set aside.
In medium mixing bowl, microwave safe. Heat butter and honey until butter is completely melted. I heated for 1 minute, then stirred and reheated for another minute.
Add in brown sugar and reheat for an additional minute. Remove from microwave and stir. Then stirring continuously add in beaten egg and flour.
Set aside and coarsely chop dark chocolate chips. In the bars mixture stir in vanilla and sea-salt. Then fold in chocolate chips, DO NOT OVER stir. You do not want the chocolate to completely melt and turn the bars into a chocolate blondie. But if you do, don't' worry they'll still taste amazing.
Once you fold in the chocolate chips, pour into pan and take a knife and swirl blondies, stick in oven and bake for 18 minutes.
Remove from oven and cool. Cut into 9 pieces and serve.
Recipe from
Martha Stewart LIVING
Here are some of my favorite recent recipes, hope you come over and check them out.
Reader Interactions