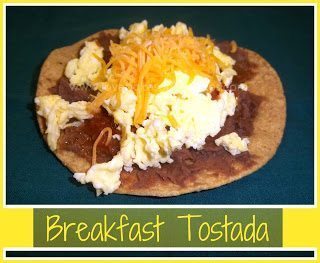 They say breakfast is the most important meal of the day. I have to admit, I have a hard time eating breakfast …. mine usually consists of toast and coffee. I'm pretty sure that's not what all the "scientific diet doctor people" would tell you is the best way to start your day. The other morning, I was actually wanting breakfast, but I wanted something different ….. I came up with these Breakfast Tostadas with stuff I already had on hand … and I have to admit, they were pretty good!
Breakfast Tostada
For each serving you need:
1/4-1/3 cup refried beans
Salsa, if desired
1-2 scrambled eggs
shredded Cheddar cheese
Heat beans in a microwave safe container, covered but with space for steam to escape, on full power for about 1 minute or until hot. Spread beans on tostada shell. Top with desired amount of salsa and put scrambled eggs on salsa. Top with shredded Cheddar cheese. Serve!
You could easily add chopped green bell peppers, onions, cooked chorizo, chopped ham, sliced avocados or anything your family enjoys!
I hope you enjoy! Shared at these
fun parties!
Don't forget to share and comment ♥
Copyright © Love Bakes Good Cakes 2012-2013 All Rights Reserved