I'm gonna try to catch up with all of the features from the past weeks some time next week - probably in one separate blog post .... I apologize to y'all for having to wait - but I appreciate your patience! Even though things are not quite "normal" yet, things are starting to look better on the home front! We closed on our new house in Arizona yesterday! We are officially Arizonians! :)
I know some of y'all have asked to see pics of our new digs and I plan on sharing some pictures with you - probably next week!
Just a reminder in case you missed it last week, my bloggy friend, Linda from
With A Blast
, will now be hosting All My Bloggy Friends with me on a permanent basis! I am so excited to have her here as a host! Please be sure to stop by and give her some love for me if you haven't already! :)
Onto the features from last week! Yes! There are features from last week! :)
The most viewed link was:
And I chose 2 personal favorites this week - Linda and I are still working out the details of features - since I haven't been online much, communication has been slow - please forgive me! ): Hopefully, we'll get this taken care of soon :)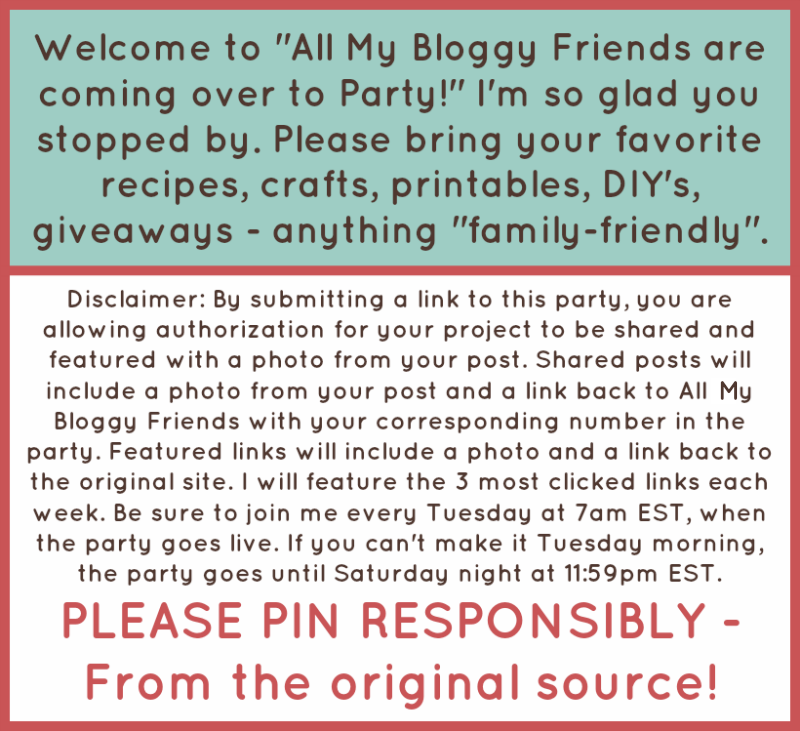 If you're new to the party and would like a button, you can find them HERE.
Don't forget to share and comment ♥
Where you can find Love Bakes Good Cakes:
Facebook / Twitter / Pinterest / Google+ / RSS

Copyright © Love Bakes Good Cakes 2012 All Rights Reserved