Omgosh, y'all ..... What a week! Can you believe it's February already .... like, didn't we just start January?! Maybe it's just that life is too busy for me right now to even pay attention?! I have no idea. I just know that life seems to be flying by in fast-forward and I really want to just "breathe" like my bloggy buddy, Evelyn tells me. ;)
I realized a few things this week ..... ok, it's really stuff I already knew but don't like to admit. I'm either really on the ball with things or I am terrible procrastinator .......... there is no middle ground - and it really depends on the circumstance as to how I react. Laundry? I will procrastinate every. single. time. I hate it. A new food idea? You better believe I've got my list in hand and I'm on the way to the store. I'd like to say I "can't help it" ... but the truth is, cooking is way more fun than laundry. (Can a girl get an amen?!)
I am also reminded this week that patience in not my strongest virtue ....... and sometimes I feel like God is telling me, "girl, ya gotta work on that area of your life." I want things now ...... I don't like to wait. I'm a toe-tapping, back and forth pacing fool. I swear, I drive myself nuts!
What does all this have to do with Weekend Round-Up? Not a darn thing. Some people make New Year's Resolutions ...... I don't. I try to take things as they come and these are just a few things I know I need to "work" on. I've had a few people tell me, "I don't know how you do it all" ...... and I always think to myself, "if they only knew." Because the truth? I'm really not that great ... and I don't always have it all together! I have my flaws and things I need to change. In my mind, maybe this makes me more accountable?
Anyways, y'all are here for Weekend Round-Up, so let's check out what happened on the blog this week:
On Facebook, we talked about recipes we wanted, we shared our Facebook pages (btw, if you're looking for new pages to follow, be sure to check out the thread), told our favorite thing to order at a Mexican restaurant, had a preference towards "middles" or "edges" of brownies and gave ideas for our favorite road trip snacks. You can join in on the conversation Monday - Friday at 3:30 pm EST ... where else, but Love Bakes Good Cakes Facebook page, of course!
Last week's Let's Get Social Sunday #5 had a great turnout! I am loving all the new blogs we are finding! If you're interested in gaining some new followers or finding some new blogs, stop by and join Evelyn and myself tomorrow for the next party! We'd love to have you!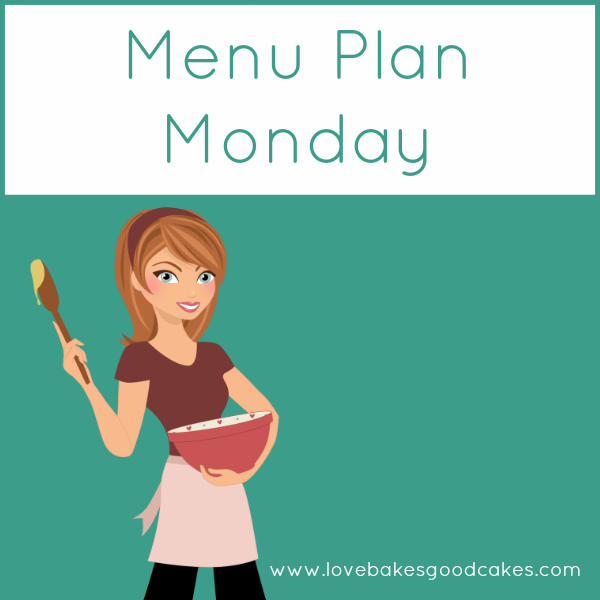 I tried very hard to resist the temptation to fill this week's Menu Plan Monday with Mexican food. The Rouladen and Broccoli Cheddar Soup in Homemade Bread Bowls were the definite winners this week! Delish ... recipes coming soon!
Ana from Carpe Diem passed the Liebster Award onto me. I shared my post on Monday. If you're interested in finding out a little bit about me or to find out who I nominated, stop by and check out the post. :)
All My Bloggy Friends #31 closes tonight at 11:59 pm EST - stop by and link up or see all the wonderful stuff shared this week! I've shared quite a bit of it on Facebook too :)
Yesterday, I shared Peanut Butter Balls. Anyone who knows me knows, my favorite thing is Reese's Peanut Butter Cups .... these are fantastic for gift giving or for molding for the holiday's!
Five things I pinned this week:
Tuna Cakes with Summer Breeze Citrus Salad from Lemony Thyme
Blueberry Pie Bars from Hot Eats and Cool Reads
Loaded Mashed Potatoes from Sunflower Supper Club
How to make English Muffins from Feeding Big
Homemade Peppermint Patties from Shugary Sweets
Most pinned post this week:
H

omemade Mexi-Melts
Most popular post this week:
Homemade Mexi-Melts
Biggest referring site this week: Pinterest
I hope you enjoy! Shared at
these
fun parties!
Don't forget to share and comment ♥
Where you can find me: Facebook / Twitter / Pinterest / Google+

Copyright © Love Bakes Good Cakes 2012 All Rights Reserved