What a week this has been! God is so good! Just when we were beginning to feel trapped in our current housing situation, we finally got an offer on our house (it's been on the market since April-ish) ... and we hope to close soon! For us, that means some changes are on the horizon and we couldn't be happier or more excited about them! I will just say, it has been an unbelievable week (in so many ways) and we feel extremely blessed! If you believe in prayer, please say a prayer for our family and the family buying our home - that everything works out ... and for God's guidance for our family, as we begin the next phase of our life. We appreciate it so much! :)
Sunday, I shared a recipe for Taco Soup. It was the first time my family had it and we really enjoyed it.
Our menu for the week can be found here. We ended up skipping the Loaded Baked Potato Soup and Pizza night because other issues came up one nigh causing us to change plans .... and we ate leftovers another night. Those meals will get moved to next week!
Tuesday welcomed All my Bloggy Friends. If you haven't stopped by, there's still time to link up! The party closes at 11:59 pm EST tonight. Stop on by and share your posts HERE! :) Feel free to check out some other links too - lots of great stuff this week!
Wednesday, I shared 7 different Christmas printables. A few people even suggested using them for wrapping paper! I love the idea and may even use them myself! You can find them all HERE.
Thursday's post was a recipe for Chicken Biscuits. I think I could eat these morning, noon and night! A few extra shakes of hot sauce and I'm good to go!
I also shared a Crayola Giveaway on Thursday. One winner will receive both Crayola products - a Digital Light Designer and a Marker Airbrush. Let me just say, these toys are fun and cool! My boys love playing with them.
I want to go on record saying - I don't believe in making you jump through a bunch of hoops to enter any of my giveaways - so all you have to do is answer one easy question .... and if you want to share it through social media, you get one more entry.
I won't make you follow me through every social media known to man ... or subscribe to my feed ... or make you follow everybody and their brother ... I tend to stay away from giveaways like that - I don't like it ... and I don't think it's right to put that on you either. If you want to follow me, then by all means pick your favorite way - but I won't make you! It doesn't get much easier than that, so stop on by and enter to win!
Yesterday, I shared this easy and tasty Brunch Pizza. If you're thinking ahead to Christmas morning, this would be easy enough to get in the oven and if you're a mean mom like me - who makes everyone wait to open presents after breakfast, it won't make the kids wait too long! ;)
I hope you enjoy!
Shared at these fun parties!
Don't forget to like, share and comment ♥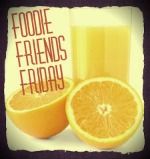 Copyright © Love Bakes Good Cakes 2012 All Rights Reserved