Once in awhile, it's nice to have something different for breakfast. Few things are more Southern than fried chicken and biscuits - they go hand-in-hand. Check out any chicken joint and you'll see, chicken and biscuits were made for each other.
These Chicken Biscuits make a nice breakfast or dinner! They are fairly simple to make and oh, so tasty! If you have a favorite biscuit recipe, feel free to use it instead. Personally, I love Bisquick biscuits!
Yield: 8 servings
For the chicken:
4 large boneless, skinless chicken breast halves
1 tbsp. Hot Sauce (or to taste)
1 cup Buttermilk
1½ cups Flour
1 tsp. Salt
½ tsp. Pepper
¼ tsp. cayenne pepper (optional)
Oil for frying
For the biscuits:
2¼ cups Bisquick
⅔ cup milk
Extra Bisquick for rolling dough out
Preheat oven to 450°F. In a medium bowl, combine the Bisquick and milk. Mix until a dough forms. Sprinkle work surface with extra Bisquick. Turn dough out onto work surface. Roll out to about ½-in. thickness. Cut biscuits out with a 2½-in. cutter. Place on an ungreased baking sheet. Bake 8-10 minutes or until golden brown.
Meanwhile, heat oil to 375°F. Flatten the chicken breasts until uniform in thickness. Cut each breast in half so there are 8 chicken pieces total. In a pie plate, combine the hot sauce and buttermilk. In a separate pie plate, combine the flour, salt, pepper and cayenne. Dip each chicken piece in the buttermilk mixture then dip into the flour mixture - coating each side well. Place the chicken pieces in the fryer and fry until golden brown on each side, flipping once if necessary. Do not overcrowd. Drain on paper towels. Repeat with remaining chicken pieces.
Split the biscuit in half and top with one piece of fried chicken. Serve immediately.
I like my chicken biscuit with an extra few shakes of hot sauce on top. Feel free to add your favorite condiment! We served it up with baked tater tots and fresh fruit.
I hope you enjoy!
Shared at these fun parties!
Featured at Something Swanky
Don't forget to like, share and comment ♥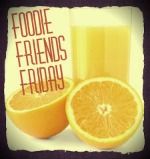 Copyright © Love Bakes Good Cakes 2012 All Rights Reserved