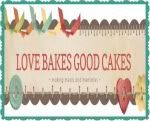 I just wanted to let everyone know that things may look out of sorts around Love Bakes Good Cakes in the coming days. I have decided I want to change the look of my blog and it may take a few days to get it just how I want it. I hope y'all will hang in there with me! Don't be shocked if you drop by and it looks wacky - it's still me, just a new look! :)
I also wanted to remind you about the Back-to-School giveaway that ends tomorrow night! Stop by and enter to win a $20 Target gift card, a box of Crayola Dry-Erase Crayons, Cheerios and some great coupons!
In other news ... I was so excited today when I reached 500 Facebook fans! I started this blog February 27th, 2012 and y'all have been the greatest! To celebrate, I'm having a giveaway exclusively for my Facebook fans ... You have the chance to win a $25 Visa gift card to use however you wish! Stop on by and enter - I promise it's super easy. :)
I'll leave you with a great song by Mr. Sam Cooke ...

Copyright © Love Bakes Good Cakes 2012 All Rights Reserved